Note:  Like my last few posts, I'm not yet done processing my photos, and so these posts will probably have more and more photos attached to them over time.
We had arrived in Warsaw around noon, and only had this day to really do any sight-seeing.  So, while some of us may have wanted to clock out and sleep our way into jet-lagged paradise, instead, we made a quick clean-up stop at the hostel, and then hit the pavement and started walking around.
3:55PM Local
One of the first things we saw was a statue of Copernicus outside of the Polish Academy of Sciences.
According to Tamara, there's a copy of this statue in Montreal as well.  Neat.
Embedded into a pedestal was also a copy of Bernardo Bellotto (known here as Canaletto)'s painting, entitled "The Church of the Holy Cross".
Here's the painting: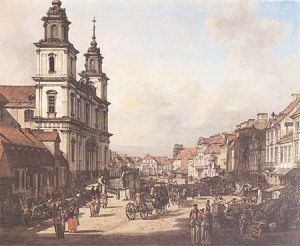 Not a bad likeness of current Warsaw, either.  Just remove the horse and buggies, add some pavement, and update the clothing.  Smack a coat of paint, and boom: present day Warsaw.
The Info Boxes
Walking down the streets of Warsaw, we kept running into these boxes on the sidewalk.  Not small, dinky boxes – but large boxes for walking into.  We'd go inside, and they'd be like small museum exhibits.
All you Poland history buffs out there, feel free to correct the next few paragraphs if I'm wrong – I'm going on what I read, and haven't done any independent research on this stuff.
Poland seems to be celebrating 20 years since the fall of communist rule, and that's what these info boxes seemed to talk about.  They'd talk about significant events, like the Lenin Shipyard strike of 1980 in Gdansk, which seemed to birth/galvanize the Solidarity movement.
Other info boxes had titles/themes, like "Imposing Martial Law" (happened in 1981, thanks to one communist General Wojciech Jaruzelski, which squashed the Solidarity movement).
These boxes were followed by "Help From the West", and "Giving Back Power", but we didn't stay too long to read into them.  We had lots of other things to see on this day.
Embedded in The History of Poland
One thing that Poland seems to have a lot of, is history.  You don't even have to open a book, or Google it to know that.  Just land in the city, and take a look around: some of the buildings are pretty ancient, and reek history.  Warsaw was devestated during bombing and raids by the Germans during WWII, but the city has done a pretty good job of bringing itself back together.
What else to say about Warsaw…. the style of the buildings, according to Una Ruud, is "Neo-Classical".  There are also a plethora of churches in the city – every time we'd turn a corner, there'd be another big church.  Lots of devotional history here.
We also saw a monument for Adam Mickiewicz, a Polish Romantic-era poet/playwrite.  According to Tamara, he was a pioneer of Polish Romantic-Nationalism.  You can read up about him here.
Every now and then, while walking along some wall or another, we'd see these white signs, covered in Polish scrawl.  Tamara told us that these signs are indicators that some tragic event took place on that spot.  For example, one of the signs we stopped at was apparently on a site where some huge shooting took place in WWII.  I didn't really catch much of that particular history lesson – I was dragging behind at that point snapping photos.
Here's a shot of the sign:
Other Impressions of Warsaw (5:35PM Local)
The whole day, the rain had been on and off.  It's like it couldn't decide.  It'd spritz a little here, and then back off…and then spritz a little there, etc.  There were some storm clouds threatening us the entire time we were out, but we didn't get caught in any torrential downpour.  It was humid out, and the sun would come out of the clouds sporadically.
Two things that suprised a few of us about Warsaw:  the low density (I expected more cramped quarters), and consequently, the massive spaces.  There was a really huge square hidden away in the recesses of Warsaw where we stopped for some coffee/tea.  I tried capturing the size of it with my camera, but no luck.  Peter, a more experienced traveller, told me that he had seen even bigger squares throughout Europe.  I can tell you I haven't really seen anything like that in Toronto.
Warsaw's square seemed oriented around this mermaid statue:
According to Tamara, the mermaid is Warsaw's symbol.
Jiv's Massive Cat, and Ryan Leaves a Bad Impression
Eventually, we found ourselves at what I believe was the outer wall of the old city.
The wall had various ports for viewing, and perhaps aiming a weapon through.  While glancing through one of these posts, a cat caught Jiv's eye.
"That cat is MASSIVE.  It's huge!  It's like the size of a tiger!  Get a load of this!"
We all gathered into the small alcove to see what Jiv had spotted.
"Jiv…that's just a normal sized house cat."

"Are you kidding me?  No way.  That thing is OUT OF CONTROL!"

"Jiv…I could carry that thing in my arms."

"You guys must be blind.  Look at that thing!"
I didn't happen to take any photos of the cat, but the general consensus was that this was without a doubt a normal house cat, and Jiv may have started hallucinating.  I don't blame him.  I think he'd been awake for something like 30 hours at this point.
Still, it was good for a laugh.
Also, while walking past a wall, some lady banged a stick against her window, and pointed at Ryan.  Maybe she was a Degrassi fan.  Or maybe she didn't like the gait of his walk.  Either way, she seemed upset.
Here's a video of Alex describing the incident immediately after:
We hurried along.
6:12PM Local Time
The exhaustion was really starting to get to me.
Half-dazed, I followed the group into an absolutely massive theatre in Warsaw (it's called Teatr Narodowy).
This is a state theatre, and hosts shows from groups like the National Opera and National Ballet companies.  We didn't get much farther than the lobby (I believe there was a show that night, which we didn't have tickets for), but I snapped some photos of the interior.
The Monument of Warsaw's Ghetto Uprising (6:58PM Local Time)
Poland was in bad shape for WWII.  I'm no buff on WWII/Polish history, but it seems pretty clear that things here were really rough back then.  This monument was for an uprising in a ghetto in Warsaw – and eventually I figured out that we were more or less in the location where the ghetto had originally been.
According to Tamara, 500,000 Jews in Poland were forced into this ghetto, and routed here or there – some sent to death camps, some kept here to govern over other Jews, etc.
Here's a Wikipedia article on the Warsaw Ghetto Uprising.
It was a pretty somber moment, anyhow.  Alex, who is proudly Jewish, took it particularly close to the heart, and lit a candle at the monument while the rain started to pour.
The Rainbow
After seeing the Ghetto Monument, we started heading back to the hostel.  We took a subway ride on the Polish metro (which was, to me, very similar to the TTC).
Chatter had been stifled since our stop at the Ghetto Monument, but was starting to pick up again.  By the time we got out of the metro system, we were back in high (yet exhausted) spirits.
And wouldn't you know it, a pair of huge rainbows came out to greet us when we emerged:
Along with a pretty cool brass band:
Not a bad end to our only day for touring around Warsaw.
I liked Warsaw.  I wish we had more time here.  But it was time to go back to the hostel, get some food, clean up, and go to sleep.
8:43PM Local
The showers in the hostel were clean, but the temperature was really random.  Alex and I were in separate adjacent stalls, and the whole hostel got to hear us alternately wail, scream, laugh, and curse at the water.  It was apparently pretty funny.  It was also the shortest shower of my life.
The shower got my travel grime off, and also woke me up.  At this point, I began to feel somewhat adjusted to being in that time zone.
We also met Yev back at the hostel, who had gotten chills during the walking tour, and headed back by herself.  Some of us started worrying about getting sick.
10:52PM Local
You'd think we would have gone to bed.
Instead, we went out to a local pizzeria.
At first, we had some difficulty getting in – we're a large group, with a variety of dietary preferences, and I think we freak out restaurants when we show up all together.
Eventually (thanks to some no-nonsense British lady who translated for us), we were able to squeeze ourselves into a restaurant and order some pizza.
We clinked our glasses together:  first night in Poland.  Pretty good.  The effect of the shower had begun to wear off though, and exhaustion was starting to creep back.  After paying the cheque, we got out of there, and headed back to the hostel.
And conked out.  Hard.  Falling asleep was easy.
June 17 – 4:30AM Local
They told me this would happen.
4AM rolled around, and for some reason, I woke up.  Fully rested.  Bleh.
Luckily, the hostel had free internet access and a PC.  I checked my email.  I wrote some email.  I wrote a blog post.
Then I went back to bed.
It's a familiar feeling…as I write this, it's June 20 at 5:25AM, and I'm wide awake.
Oh well.  Something to pass the time.
Click here to go to Part 4:  To Wroclaw